Please find an overview of chargebacks here. Details regarding disputing a chargeback and recommended evidence are outlined below.
Once a customer files a chargeback, you will be instantly notified about the chargeback via email. Once that happens, you'll have 4 days (96 hours) to submit any evidence to retrieve your funds (excluding the chargeback fee). The same applies for pre-arbitrations.
Fees
Any chargeback or pre-arbitration results in an immediate $15 fee that is billed to your account.
There is no fee associated with disputing a chargeback claim, however a "won" dispute could be challenged a second time by the customer (called a pre-arbitration), resulting in an additional $15 fee. Therefore, it is only recommended that you dispute the chargeback if you know for sure that this is a customer error.
City Hive is not liable for chargebacks or chargeback fees.
Accepting a Chargeback
Merchants typically accept a chargeback if the transaction is known to be fraudulent (i.e., the owner of the credit card did not make the purchase) OR a refund is warranted.
While accepting a chargeback indicates that you do not wish to take further action and are liable for the claim, it does not necessarily mean that you agree with the claim.
If a refund is warranted and a chargeback has already been submitted, it is recommended to accept the chargeback in lieu of issuing a refund. This allows you to avoid double-crediting your customer: once for the refund and once for the chargeback.
Disputing a Chargeback (Evidence Required)
You can dispute a chargeback or pre-arbitration by submitting a dispute on the order page within your dashboard within 96 hours of the dispute. On the orders page, select the order that you would like to dispute and click Full Info / Edit: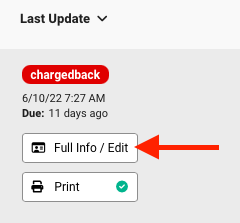 In the top right corner of the order, you will see a button to submit your dispute evidence. The button will state the last date on which you can submit your evidence to dispute the chargeback:

Once you click "File dispute by DATE," you will see a form where you can provide a description of the situation and provide any additional documentation: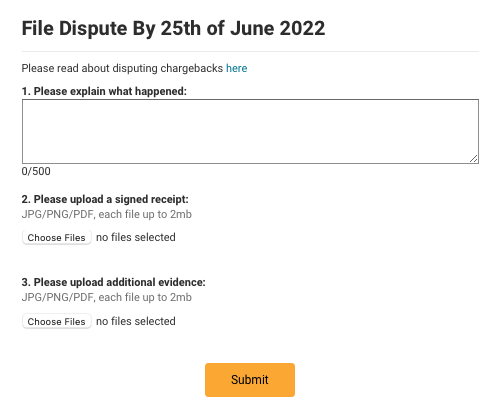 Please submit separate disputes for each order that received a chargeback, even if they were chargedback by the same customer. You can visit each order in the dashboard separately and submit the relevant dispute information for that order.
We recommend obtaining these items for all transactions so you are prepared in the event that a chargeback occurs. Evidence includes, but is not limited to:
Photo of their ID (e.g., Driver's License) that matches the Credit Card

Copy of their signature when dropping off the delivery

A video of the customer picking up the product
For chargebacks related to fraud or product not received, you are required to submit one of the following (though the more evidence that you can provide, the more likely you are to win and there is no limit to the amount of evidence that can be included):
Documentation to prove the customer is in possession of or using the merchandise

Proof of a signed delivery form, or copy of customer ID as proof goods were picked up at your business location

Proof of delivery to the address associated with an AVS matched response

Proof of delivery and customer proof of employment at the delivery location

Proof that ticket was received or used

Proof that the transaction was completed by an authorized signer associated with the cardholder

Proof of a signed order form for a mail or phone transaction

Proof of digital goods downloaded from your website or app

Proof of previously undisputed transaction for the same merchandise or service

Proof of previously undisputed recurring transaction history

Please note, after 96 hours, you will no longer be able to submit evidence for the dispute. In this case, you will see a note that says the Dispute window expired:

You can also send evidence to
chargebacks@cityhive.net, in this case please make sure to note all relevant order numbers and be sure to send the email within the dispute window.
City Hive is committed to protecting our partnering merchants from fraud. We also offer a third party fraud insurance coverage that can be added to your e-commerce package to ensure you're not liable for future fraudulent transactions. -- Contact us to get more information or a quote.
Prevent Chargebacks
Use the following resources to prevent fraudulent credit card transactions: