There is nothing better than getting a new order. Your customers need you, and it's time for you to step in and fulfill their requests. To fulfill an order please follow the steps below.

Review the Order
1. Protect Against Fraud
Suspicious orders are flagged with a yellow triangle next to the order type. Review the suspicious activity by hovering over the triangle and make an educated decision on whether you should start fulfilling the order or decline the transaction because of fraud.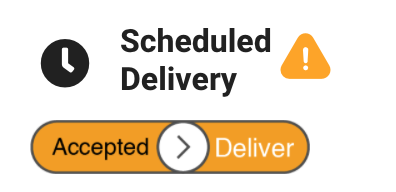 Please note: Any chargeback results in a $15 fee from our processor.
The most suspicious reasons for fraud include:
Mismatch of account & credit card names
Inconsistent email address (Ex: Customer Name is John Doe and their email is Kevin1234@anemailaddress.com)
Different states for delivery & billing zip codes
Items with resale value (Moet Chandon, Don Julio, Hennessey, etc)
If you're not sure, check that the last four digits on the credit card used matches the name on the purchaser's drivers license when you deliver the order or the order is picked up. If you believe the order is fraudulent, decline the order in your merchant dashboard and require the customer come in store to process as a card present transaction.
2. Ensure Products are in Stock
Before approving the order, pull the products from the floor to ensure you have everything in stock. It is important to do this before accepting the order because when you do so, the payment starts transferring from the customers bank to yours.
If you do not have all products in stock, click the following link to learn how to edit orders.
Accept the Order
1. Click Accept on Your City Hive Dashboard
Once clicked, your customer is notified via SMS that their order is ready for pickup or will arrive via delivery within the time frame setup for their zone. You can customize the text messages your customers receive here.
2. Process in Your POS
In order to deplete the inventory and account for your sales in your POS, process the order in your POS system as if the customer was in the store. To do this you'll need to create an additional tender option so that when you finalize the transaction you can account it towards either "City Hive" or "Online Order".
Fill the Order
When the delivery driver has left with the order or the customer has picked up their products, click Fill to archive the order and move it out of a pending state.
If the customer no longer wants the order, click the following link to learn how to refund orders.