Driving traffic to your physical store is just as important as online, allowing you to connect with customers and build trust. Therefore, we highly recommend creating events alongside with your promotions to educate customers and increase loyalty. In order to create an In-Store Event please follow the prompts below:
Head to the Events Section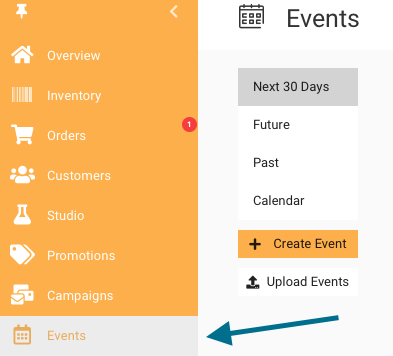 Customize your event and fill in the details below:
Event Title: The title of the event
Time: The start and end date for the event
Event Image: The cover image that your customers will see
Event Description: The description your customers will see.
Location:
The location of the event
Event Tickets: If you plan on offering tickets for the event, check the box, input the price, quantity and tax information.
Note: Customers will be able to purchase tickets for your events straight through your app and website.
Contact Details: Your information incase of questions
Products: Search and add products to your event. Example: Add the bottles of wine that you will be tasting so that your customers can purchase them directly from your event on your app or website.
Events will populate directly to your Tastings & Events tab on the website. If that tab does not currently exist on your site, you can follow
this article
to create a menu item and use the value /events.
Refund an event ticket: If a customer would like to refund their tickets to an event, click into the desired event the customer has purchased tickets for.
1. Once on the event, scroll to the bottom to find the customer you would like to refund.

2. Go ahead and click on the refund button to proceed with issuing the refund.
3. You will then come across a pop up, click yes to continue.

If you would like to fix the quantity of the tickets you can edit the event and just adjust the ticket quantity to reflect the correct amount.
4. After clicking "Yes" you should see the status reflect as "Refunded" besides the customers name.