Once you have been approved to send SMS (text) messages to your customers, it's time to set up your autopilots!
First, make sure you have completed your enrollment for SMS
Before you set up SMS autopilots, make sure you already created an SMS account in the dashboard (here) by clicking on the left-hand gear icon, then clicking on Create an Account. When your account is approved, your account manager will let you know.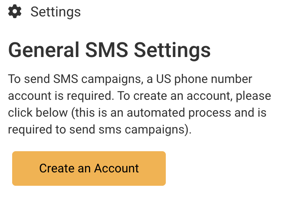 Second, you will need to make sure you have an "opt-in request" autopilot enabled
The regulations around SMS marketing are pretty specific, and compliance requires that your customer 1) receive a text requesting their permission to send future messages, and 2) they must reply directly to that message to give their consent.
We have built a quick and easy template so that this can happen automatically, whenever a customer provides their phone number.
Note: the following autopilots may already be enabled when you sign up for SMS, but if it is not, please follow these steps to set it up.
Begin on the Autopilot section of your dashboard, then click on the yellow "+" button in the upper right-hand corner and select "Create From Template".
Choose the one titled "SMS Notification Opt-In Request - Step 1 (All channels). Note: the template will be filled out already, but you need to enable two settings
Click the grey toggle so that it turns orange and changes to read, "Flight is on"
Scroll to the bottom of the page and select the bubble to set your audience to "Customers"
Scroll back to the top and click "Save". Congratulations - your SMS Opt-In autopilot is live!
Enable an SMS Welcome Series Autopilot for your First Purchase Promotion coupon
Make sure you have already chosen a first-purchase promotion. Details can be found here.
Remain in the Autopilots section of your dashboard, and click the "+" in the upper right to select another template. This time, choose the template that matches your first purchase promotion, for example, the template titled "SMS Welcome Series: $10 OFF $30" if that matches your coupon.
Just like with the first autopilot, this series has already been designed for you. It will send three texts, with five days between each message, to your new customer. The goal is to "strike while the iron is hot" and incentivize them to place their first order while they're still thinking about it.
Feel free to modify the language of the messages, if you wish, but you can also leave them if you're happy with the content. You'll just need to toggle "Flight is on" and set the target to "Customers", just like you did in the two screenshots above.
Scroll to the top and click "Save".
Congratulations! Your SMS marketing automations are ready to go!